Skip to Main Content
It looks like you're using Internet Explorer 11 or older. This website works best with modern browsers such as the latest versions of Chrome, Firefox, Safari, and Edge. If you continue with this browser, you may see unexpected results.
Liberalism
Liberalism in Crisis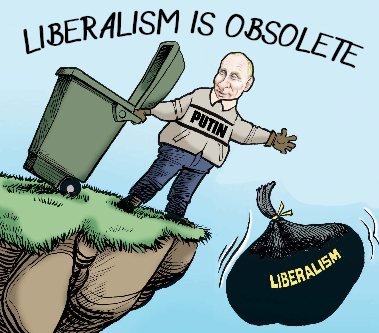 Putin is contemptuous of Liberalism and sees it as the cause of the decline of the West. He views it as "decadent and obsolete", considers the European Union the bearer of this decadence, and believes he is protecting Ukraine and Russia from this decadence of the West and its fate. For Putin the conflict in Ukraine is not only political but cultural, and the culture wars in the West are fuel for his confidence and intransigence.
The Road to Unfreedom: Russia, Europe, America

by

Call Number: D 863 S59 2018

ISBN: 9780525574460

Publication Date: 2018-04-03

"From the author of On Tyranny comes a stunning new chronicle of the rise of authoritarianism from Russia to Europe and America. With the end of the Cold War, the victory of liberal democracy was thought to be final. Observers declared the end of history, confident in a peaceful, globalized future. This faith was misplaced. Authoritarianism returned to Russia, as Putin found fascist ideas that could be used to justify rule by the wealthy. In the 2010s, it has spread from east to west, aided by Russian warfare in Ukraine and cyberwar and information war in Europe and the United States"

The Retreat of Western Liberalism

by

Call Number: JC 574 L84 2017

ISBN: 9780802127396

Publication Date: 2017-06-06

"Luce argues that we are on a menacing trajectory brought about by ignorance of what it took to build the West, arrogance towards society's economic losers, and complacency about our system's durability--attitudes that have been emerging since the fall of the Berlin Wall. We cannot move forward without a clear diagnosis of what has gone wrong. Unless the West can rekindle an economy that produces gains for the majority of its people, its political liberties may be doomed. The West's faith in history teaches us to take democracy for granted. Reality tells us something troublingly different. Combining on-the-ground reporting with intelligent synthesis of the literature and economic analysis, Luce offers a detailed projection of the consequences of the Trump administration, the rise of European populism, and a forward-thinking analysis of what those who believe in enlightenment values must do to defend them from the multiple onslaughts they face in the coming years."

Why Liberalism Failed

by

Call Number: JC 574 D46 2018

ISBN: 9780300223446

Publication Date: 2018-01-09

"Of the three dominant ideologies of the twentieth century--fascism, communism, and liberalism--only the last remains. This has created a peculiar situation in which liberalism's proponents tend to forget that it is an ideology and not the natural end-state of human political evolution. As Patrick Deneen argues in this provocative book, liberalism is built on a foundation of contradictions: it trumpets equal rights while fostering incomparable material inequality; its legitimacy rests on consent, yet it discourages civic commitments in favor of privatism; and in its pursuit of individual autonomy, it has given rise to the most far-reaching, comprehensive state system in human history. Here, Deneen offers an astringent warning that the centripetal forces now at work on our political culture are not superficial flaws but inherent features of a system whose success is generating its own failure."

Black Wind, White Snow

by

Call Number: On order

ISBN: 9780300226454

Publication Date: 2017-05-30

A fascinating study of the root motivations behind the political activities and philosophies of Putin's government in Russia Charles Clover, award-winning journalist and former Moscow bureau chief for the Financial Times, here analyses the idea of "Eurasianism," a theory of Russian national identity based on ethnicity and geography. Clover traces Eurasianism's origins in the writings of White Russian exiles in 1920s Europe, through Siberia's Gulag archipelago in the 1950s, the dissolution of the Soviet Union in the early 1990s, and up to its steady infiltration of the governing elite around Vladimir Putin. This eye-opening analysis pieces together the evidence for Eurasianism's place at the heart of Kremlin thinking today and explores its impact on recent events, the annexation of Crimea, the rise in Russia of anti-Western paranoia and imperialist rhetoric, as well as Putin's sometimes perplexing political actions and ambitions. Based on extensive research and dozens of interviews with Putin's close advisers, this quietly explosive story will be essential reading for anyone concerned with Russia's past century, and its future.]]>
The End of Europe: Dictators, Demagogues, and the Coming Dark Age

"Once the world's bastion of liberal, democratic values, Europe is now having to confront demons it thought it had laid to rest. The old pathologies of anti-Semitism, populist nationalism, and territorial aggression are threatening to tear the European postwar consensus apart. In riveting dispatches from this unfolding tragedy, James Kirchick shows us the shallow disingenuousness of the leaders who pushed for "Brexit;" examines how a vast migrant wave is exacerbating tensions between Europeans and their Muslim minorities; explores the rising anti-Semitism that causes Jewish schools and synagogues in France and Germany to resemble armed bunkers; and describes how Russian imperial ambitions are destabilizing nations from Estonia to Ukraine."

Illiberal Trends and Anti-EU Politics in East Central Europe

"Current illiberal trends and anti-EU politics have the potential to undermine mutual trust between member states and fundamentally change the EU. It is therefore crucial to understand their domestic causes, context conditions, specific processes and consequences. This volume contributes to empirically informed theory-building and includes contributions from researchers from various disciplines and multiple perspectives on illiberal trends and anti-EU politics in the region. The qualitative case studies, comparative works and quantitative analyses provide a comprehensive picture of current societal, political and institutional developments in the Czech Republic, Hungary, Poland and Slovakia. Through studying similarities and differences between East Central European and other EU countries, the chapters also explore whether there are regional patterns of democracy- and EU-related problems."

Inside the Mind of Vladimir Putin

"The Russian president's landmark speeches, interviews and policies borrow heavily from great Russian thinkers past and present, from Peter the Great to Dostoevsky and Solzhenitsyn. They offer powerful visions of strong leaders and the Russian nation: they value conservatism and the Slavic spirit. They root morality in Orthodoxy, and Russian identity in the historic struggle with the West.Today, Putin manages and manipulates those same ideas in his 'defense' of 130 million ethnic Russians against the world. With the annexation of Crimea, the war in Syria and shock election results across the West, the challenge of decrypting his worldview has become more pressing than ever. From a Eurasian Union to a new Russian Empire, this is a revealing tour of Kremlin doctrine and strategy, viewed through its philosophical roots."